Welcome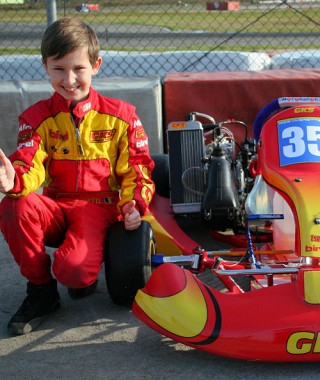 Welcome to Ries' website. Despite his young age and small built, Ries has already proven he is capable of very quick driving. In 2013 he accomplished a major milestone by becoming Benelux champion in the prestigious Rotax BNL championship. Since debuting in competition in 2008 by placing second in the BKK Mini-F1 championship (championship of indoor karting in Belgium with mostly kids two to four years older), Ries started competing outdoors in the Rotax championships in 2009, finishing in the top 5 each season.
In 2014 Ries will be moving up to the Rotax Junior category, and will be looking to enjoy some more international competition.
Please read the "about me" page for more personal information, visit the favorites folder for some weblinks, or have a look in the photo gallery at some of Ries' pictures.
Enjoy, and thanks for visiting.
!Looking for 2015 sponsors!
-----------------------------
Welkom op onze website. Ries is een veelbelovende snelle karter die in 2013 een droom zag uitkomen door kampioen te worden in het prestigieuze Rotax BNL kampioenschap (en tevens officieel Belgisch kart kampioen). Al vanaf zijn eerste competitie in 2008 (BKK Mini-F1 indoor Belgisch kampioenschap) liet hij zich meteen opmerken door het kampioenschap af te sluiten met een 2de plaats tegen voornamelijk oudere en grotere karters. In 2009 debuteerde hij outdoor in de Belgische en Benelux Rotax Max kampioenschapen met een derde en vijfde plaats in de eindstand. Ook in 2010 en 2011 plaatste hij steeds in de top 5. In 2012 promoveerde hij naar de MiniMax klasse, met enkele poles en top 3 resultaten. In 2013 werd hij dan eindelijk kampioen.
In 2014 zal Ries opstappen naar het Rotax junior kampioenschap.
Verder op de website kun je een meer persoonlijke informatie vinden op de "about me" pagina, foto's bekijken op de "photo gallery" pagina, of kijken wie Ries zijn sponsors zijn en andere leuke links terugvinden op de "favorites" pagina.
Veel plezier.
!2015 Sponsors gezocht!